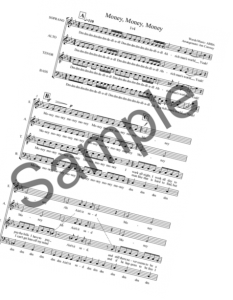 I am currently making my arrangements legal through sheetmusicplus.com. Links to buying the scores will appear in the table below once they are available. 
If you want any further information about these arrangements then do get in touch HERE.
Arrangements
Play
Song Title

Info
Sheetmusicplus
SCORE
Teach Trax

Type

Latest Additions / Changes

Life on Mars - SATB
SATB
Real

Life on Mars - SSAA
SSAA
Hybrid

Love Is In The Air - SATB
SATB
Hybrid

Space Oddity - SSAA
SSAA
Hybrid

Bowie Space Medley - SSAA
Email me
Hybrid

Money Money Money
SATB
Hybrid

Main Catalogue

All You Need Is Love
Real

Any Time At All
Hybrid

Barbara Ann
Hybrid

For Once In My Life
Hybrid

Help!
Real
Higher And Higher!

How Sweet It Is
Computer

I Can Hear Music
Real

I'll Be There
Computer

Laughter In The Rain
Hybrid

Moon River
Hybrid

My Girl
Hybrid
Paperback Writer

Puttin' On The Ritz
Hybrid

Surfer Girl
Computer

That's What Friends Are For
Hybrid

What A Difference A Day Made
Real

Who Will Buy
Hybrid

You Raise Me Up
Computer

Carols

Ding Dong!
Real

Have Yourself A Merry Little Christmas
Hybrid

Joy To The World
Real

Noel Nouvelet
Real
This gives you the snippet of the full mix of the song.
There are THREE methods that I use to create teach tracks.
REAL: Real Vocals where I record all 4 parts myself or, better still, call on the help of The B Naturals  – this creates the best type of teach tracks available.
COMPUTER: Computer sung teach tracks. Yes the computer actually sings the songs by simulating the human voice!! Though note and pitch accurate, they do take some getting used to as the tracks are quite robotic and difficult to understand. These are a lot quicker to create and are therefore cheaper to buy.
HYBRID: Computer aided Real vocal tracks. These are like a hybrid of the above 2 methods. The sampled sounds are from real voices and the computer connects them together to make the sung line. They are much clearer to understand and though do not sound completely natural, they are easy to listen to.
Below are samples of the 3 methods using the same song: What a difference a day makes
  Real Version
  Computer Version
  Hybrid Version