We have picked stunning locations to host our weekend retreats. Would you like to spend the weekend socialising and singing with like-minded friends, eating wholesome food, relaxing by the sea or lounging in a 17 century mansion house overlooking the river Dart?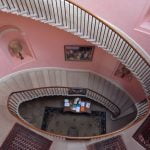 If this sounds like your ideal weekend then these Summer and Winter retreats are for you.
Choose between Othona (near Bridport and 15 minutes walk to the sea) or Sharpham House (near Totnes on the river Dart).
The price is all inclusive of accommodation, meals (breakfast, lunch and dinner) and workshops. There is no supplement for single rooms unless you upgrade to a larger room. If you need a single then please book these early as they tend to go very quickly.
What type of songs will we learn? Well anything with good harmonies and rhythms, this includes World Music, Gospel, Taize, Pop, Barbershop, African and shorties.
Referral Scheme discount

If you introduce someone new (who has not been on one of our retreats before) to the same retreat you are booked on, you will receive a £10 discount per person that you introduce, up to maximum discount of £40. The new person will also get a £10 discount.
You must have been on at least one of our weekend retreats to qualify for a referral discount.
Put your thinking caps on, do you know someone who would like to come and join us for the weekend?
Current Retreats
Date
Event
Location
Cost (Single see below)
Book
Summer Sizzlers 2019
July 12-14
Summer Sizzler
Sharpham
£240
Book
Winter Warmers 2019
Nov 29 - Dec 1
Winter Warmer
Sharpham
£240
Book
Single Rooms
As single rooms tend to be a little smaller we are no longer charging a supplement for them. However, if space permits, you can upgrade to a larger room (a twin or a double) for £40.
If you would like a single then let me know if you want a standard room or an upgrade.
Every moment was joyful
…just to say what a wonderful time I had at Sharpham. I just love being there, and for me – every moment was joyful.  Good company, wonderful singing/ song arrangements, fantastic environment. Thanks for making it happen.
L-O-V-E-R-L-E-Y
Thank you SO very much for a L-O-V-E-R-L-E-Y singing weekend – you two worked so hard and enthusiastically for us and with us….. love and thanks to you both
I'm still smiling!
I'm still smiling! Thank you both for such a delightful weekend. It was great fun and the barbershop boys added that extra special dimension!
gert lush experience
A big big thank you.. What a magnificently stonking brilliant & gert lush experience ..
Truly memorable
So many things to thank you both for this weekend! We had such a wonderful time singing with lovely people in a great place- truly memorable.
Fantastic weekend
Thanks again for a fantastic weekend, more fun than I dared hope it would be and excellent company.
Came away on a high
A big "thank you" to you and Nick for last weekend. What a fantastic venue /food/program/ and not least of all the company ! I think we all came away on a high, the songs were lovely… 
What a fabulous experience!
What a fabulous experience! The house and acoustics were inspirational and completely delicious! Not to mention the food. Thanks to you and Nick for all the hard work, it's great to sing with you both in such a relaxed and enabling way.
A nourishing bubble
Singing weekends with you two at Othona are always something special and I came away feeling as though I'd been in a nourishing bubble
Brilliant uplifting time
A brilliant uplifting time, so enjoyed it. I'm up for being 'SIZZLED' next year!
Information
How to book
Schedule
Othona
Sharpham
Contact me via the Bookings page.
Select the retreat you're interested in from the dropdown list and fill in the details. I will let you know, via the email you supplied, if we have any spaces left.
If there are spaces then I need a £40 non-refundable deposit to hold your place. The balance will be due 6 weeks before the event.
See the terms and conditions page for cancellation details.
Here is an example schedule:
Friday
4pm Arrivals 
7pm Dinner
8:30pm Welcome and Easy Songs
Saturday
8:30am Breakfast
10am Harmony singing (with coffee break)
1pm Lunch
3pm Harmony singing (with coffee break and visit to the River/Sea)
6.30pm Dinner
8:30pm Cabaret (Please feel free to bring instruments)
Sunday 23rd
9am Breakfast
10:30am Harmony singing (with coffee break)
1:30pm Lunch
2:30pm Final singing
Othona is situated just 15 minutes walk to the beach.
More info and pictures to follow.
Click HERE to visit their website
A 17th Century Grade 1 listed manor house set in a majestic location overlooking the river Dart. The house and gardens exude a sense of peace and tranquillity with exquisite views in a designated area of outstanding natural beauty.
It is well heated in the winter and exclusively ours for the weekend!
Click HERE to visit their website.