Description
Holland House stands in three acres of beautiful gardens alongside the River Avon and is situated in the beautiful Vale of Evesham, an area with a long history of market gardening including some of the best quality apples, plums, pears and, of course, the famous 'gras' (asparagus).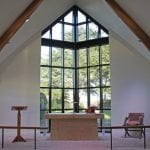 The oldest part of the House dates from the early seventeenth century. Here you find a comfortable Reception area, Library Room, Drawing Room and a beamed Dining Room with an inglenook fire place. A wonderful feature of the centre is the bespoke chapel, a great place to sing in.
All exclusively ours for the weekend, in fact the staff are rarely around and it really feels like we own the place!
There is a reasonably priced honesty bar providing local beers, wines, ciders , fruit juices and presses.
With a lively mixture of learning songs (in 4-part harmony), delicious food, a trek to the river, saturday night cabaret. Why would you want to be anywhere else!
[testimonial_view id=1]
Cost
The price is £245 all inclusive of:
Workshops
All meals (2 Breakfast, 2 Dinners, 2 Lunches)
Cabaret
Trip to the river (weather depending)
Single rooms have a £40 supplement.
To book a room please send a £40 non-refundable deposit. Contact me for details on where to send this.
Food and Diets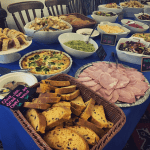 Holland House has three fine chefs dedicated to providing the best meals for their guests. They understand that the best hospitality starts in the kitchen, and to that end they work hard to provide top quality meals made with care and attention. They also have an ethos of buying as much local product (some home-grown), free-range, organic, and MSC sourced fish whenever possible and practical. 
If you have any food allergies or intolerances then do tell me so I can let the kitchen know.
They do offer pork, fish and chicken dishes during the weekend but also offer delicious alternatives to these meals if you don't eat any of these.
Let me know at the time of booking.
Links
Event FAQ
Arrivals are from 4pm on the Friday. First session starts at 6pm with the evening meal.
The last session finishes around 3pm on the Sunday.
What if I'm going to be late?
Don't worry about being late, let me know and we can put some food aside for you.
What is the nearest train station
The nearest convenient station is Evesham. There is a taxi rank at the station or ring ahead to BR Taxis 01386 303030 or Pat's Taxis 0773 0202299.
One of the retreat attendees may be able to pick you up so let me know if you need me to ask.
No, they are a licensed premises and do provide an honesty bar selling local beers, wines, ciders and juices. Beer is £4 a bottle, wine £4 a glass, £14 a bottle.
Checkout of rooms is 10am on the Sunday and they request you strip your beds before vacating the rooms.
Do I need to bring bedding?
They provide towels and all bedding so no need to bring these, but do bring house slippers.
We will be having a self-made cabaret on the Saturday night so if you have a party piece you would like to share then come prepared. If you need a guitar then don't forget to bring it along.
Anything goes, stories, songs, jokes, dance, whatever you would like to share.
There is a piano available and if you would like Nick to accompany you then please provide him with some sheet music beforehand.
There is no requirement to take part, you can just sit and watch.
Do I have to do any chores?
We dont have to do any chores while there, except clearing our own plates after meals and stripping beds before leaving.
Are there any other activities?
We will take a stroll along the river Avon so bring some appropriate footwear.
Sunday lunch is included, though if you are planning on leaving before this then do let us know so we can tell the kitchen.